Compliance and Enforcement
Compliance and Enforcement Procedures
NDEP Bureau of Water Pollution Control ensures compliance with Nevada Water Pollution Control Law (NRS 445A.300 to NRS 445A.730) by inspecting regulated facilities to ensure they are operating within the limits of their discharge permits, reviewing discharge monitoring reports for permitted facilities, conducting investigations with regards to spill reports, and issuing enforcements actions when necessary.
It is recognized that the vast majority of compliance is achieved through the good faith efforts of operators and managers of Nevada's permitted entities. When there is either culpability, probable harm to the environment/ public health, or a pattern of non-compliance events, the TCE Branch will use it compliance and enforcement procedures to achieve compliance. This may include the issuance of warning letters, an informal enforcement action, cease and desist actions, and notice of violations. In certain cases, the Branch may propose an administrative order on consent to achieve compliance.
Monetary settlement offers that may result from enforcement actions are set based on the following factors:
Culpability of the facility for the alleged violation
Magnitude of the violation
Environmental and/or Public Health of the alleged violation
Economic benefit achieved by the alleged violation
Compliance History for the Facility
The settlement offer is provided to the facility in order to close the compliance matter and allow for the continued operation of the facility with permit compliance. The amount set based on the factors above are set to deter future non-compliance, but to not unduly punish a facility. If the facility chooses to not accept the settlement offer from NDEP, the matter will be referred to civil court where penalties of $ 25,000 per violation per day (NRS445A.700) may be assessed by the court.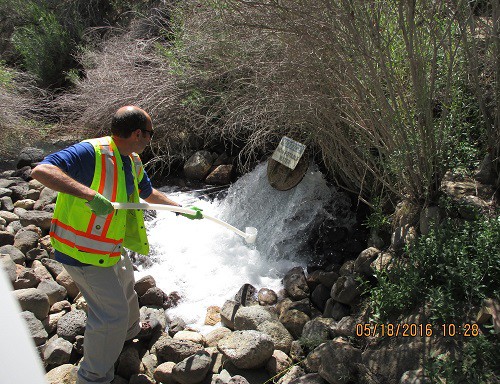 Inspector sampling a pond in Fallon, NV in 2016