Clean Water (Wastewater)
The Clean Water State Revolving Fund provides loans for infrastructure construction to publicly and privately owned wastewater systems in Nevada. Loans can also be uses to control non-point sources of water pollution. A summary of all of the CWSRF loans and expenditures by both county and specific location through December 31, 2016 is available on this page.
Financing is available at below market rates and disadvantaged communities may qualify for principal forgiveness loans.

Who is Eligible, What is Eligible?
2019 Final CWSRF Project Priority List
2017 Annual Report including Financial Statements
We have guidance documents available to help you understand some of the federal and state requirements of this loan program.
---
Program Expendures — A summary of all of the CWSRF loans from the inception of the program through December 31, 2016 may be viewed by clicking on the images of the state below.
In order to see the actual amount of loan funding obligated and disbursed during the project, click on the Program Summary through December 31, 2016 sheet below.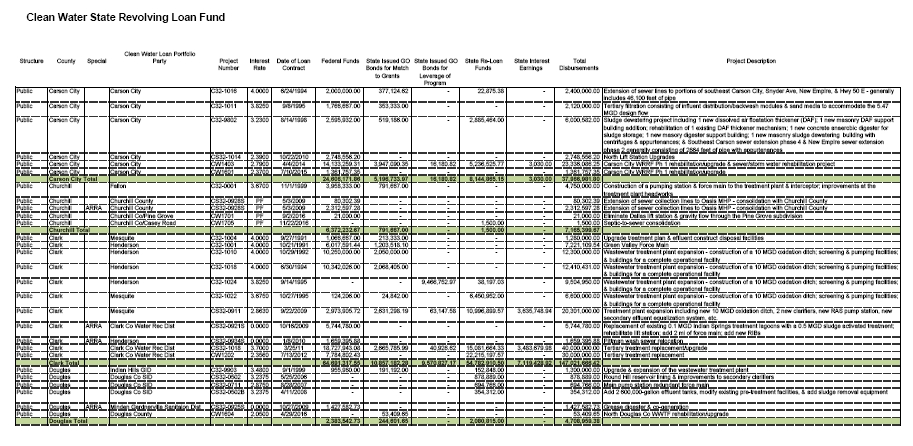 ---
Guidance Documents

Loan Specific
American Iron Steel - Guidance Documents
PDF
Disadvantaged Business Enterprise - Guidance Documents
PDF
Project Sign
PDF
Wage Rates - Government Entities
PDF
Wage Rates - Non Government Entities
PDF
Clean Water only
Clean Water Outline for Facility Plan
PDF
Clean Water Checklist for Environmental Review of Facility Plan
PDF
General
Request for Statement of Qualifications - General Guidance
PDF
Selecting an Engineer
PDF
USDA Preliminary Engineering Report
PDF
USDA Environmental Report
PDF