Technical Assistance - Capacity Development
In the 1996 Amendments to the Safe Drinking Water Act, Congress ratified a philosophy that capable water systems are better positioned to consistently comply with applicable standards and provide safe and reliable water service. Congress recognized that protection of the public's drinking water supply requires ongoing vigilance in the operation and maintenance of public water system facilities. The term "capacity development" was used by Congress to describe capability. The fundamental goals of capacity development are
To protect public health by ensuring consistent compliance with drinking water standards;
To enhance performance beyond compliance through measures that bring about efficiency, effectiveness, and service excellence; and
To promote continuous improvement through monitoring, assessment, and strategic planning.
Capacity has three components: technical, managerial and financial (TMF) as shown in the figure to the right. Items within these components often relate to more that one of the components thus the overlapping relationship. Adequate capacity in all three areas is necessary for a system to have "capacity" and to help assure the sustainability of the water system.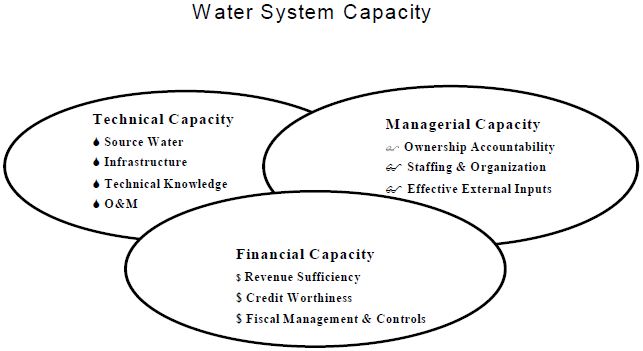 Nevada's Capacity Development Strategy was approved by the U.S. Environmental Protection Agency in September 2000. The major objectives of Nevada's Capacity Development Strategy are:
Prioritization of systems most in need
Assessment of system capacity
Developing programs to assist systems with SDWA compliance
Encouraging partnering between systems
Measuring success
Sustainability
The U.S. Environmental Protection Agency's (USEPA) Clean Water and Drinking Water Infrastructure Gap Analysis (2002) estimated that if capital investment and operations and maintenance remained at current levels, the potential funding shortfall for drinking water and wastewater infrastructure could exceed $500 billion by 2020. To address the funding gap, USEPA launched the Sustainable Water Infrastructure Initiative. The Sustainable Infrastructure Initiative will guide efforts in changing how the nation views, values, manages, and invests in its water infrastructure. Many of the efforts of Nevada's Capacity Development Program support sustainable infrastructure. USEPA has identified the following four sustainable infrastructure priority areas:
Better Management
Full Cost Pricing
Water Efficiency
The Watershed Approach
Nevada's Capacity Development Program addresses, to some degree, all four of these areas. Nevada has recognized that good management is critical to a well-functioning utility. Nevada offers technical assistance in the form of Board training to assist in better management. In terms of full cost pricing, Nevada's technical assistance providers have completed a number of rate studies for water systems and presented the findings to the governing board and the public. Being the driest state in the U.S., Nevada has long recognized the value of water. The Nevada Division of Water Resources requires that every water system submit a Water Conservation Plan that includes measures to evaluate the effectiveness of the plan. Technical Assistance providers have helped a number of communities prepare these plans. Although the concept of "Watershed Approach" is more focused on management of pollution sources, Nevada's integrated source water protection program (which incorporates wellhead protection) also fits into this concept. State grant funding policies have required water systems to implement reasonable water rates and contribute to future infrastructure renewal and replacement.
Annual Capacity Development Report
Nevada Division of Environmental Protection prepares an annual report on the capacity development activities
2023 Annual Capacity Development Report to the USEPA
2022 Capacity Development Strategy
Capacity Assessment Tools
Determining the level of TMF capacity can help water system personnel understand that they should be "operating the system like a business." Seeing the long-term implications can encourage the system to manage their operations sustainably, so that they are able to continue to afford as well as be allowed to operate in the future. Many water systems throughout Nevada have increased their capacity through the technical assistance program. A capacity assessment can be a useful tool for the water system manager to measure strengths and identify weaknesses. It can also be a useful tool for state staff to provide the most appropriate assistance to a particular system.

The survey form below can be used alone (with manual calculation of TMF capacity) or can be used with the spreadsheet for calculating the TMF capacity.
2012 TMF Capacity Survey
2012 TMF Capacity Survey Calculation Tool
Governor's Report of Capacity Development
The Safe Drinking Water Act (SDWA), Section 1420(c)(3), requires that not later than two years after the date on which a State first adopts a capacity development strategy, and every three years thereafter, the head of the State agency that has primary responsibility to carry out this title, the Nevada Division of Environmental Protection, shall submit to the Governor a report that shall also be available to the public on the efficacy of the strategy and progress made toward improving the technical, managerial and financial capacity of public water systems in the state. This report is intended to fulfill the requirement of Section 1420(c)(3).