Request Public Records
Contaminated Site Cleanup, Public Information Request
Forms & Applications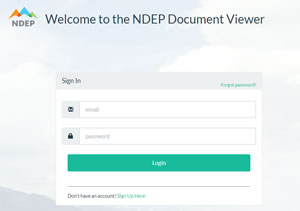 ​Access many records online
Our online document viewer archives various permits, reports, and files related to our air and mining programs. All it takes is a simple search to access thousands of documents on NDEP activities across Nevada.
Instructions for Submitting a Written Request
You may submit a public record request either with the online form (using the blue button below) or in writing using the NDEP Public Records Request Form (available below).

Please direct your written request to:

Nevada Division of Environmental Protection Records Request Coordinator
Attn: Loren Borst
901 S. Stewart St., Suite 4001 Carson City, NV 89701

After receiving the request, the Records Request Coordinator will forward it to the appropriate NDEP program. You will receive a response later advising whether or not files exist and, if a program has files, offering instructions on making arrangements to view the files or obtain copies.
---
Instructions for Submitting an Online Request
Click on the blue button below that says "Online Form".
This will take you to the DocuSign page. You will need to provide your name and email address.
Click "Begin Signing".
DocuSign will send you via email a one time code allowing you to sign in completely. Enter that code on the next page.
This will take you to the DocuSign form that will need to be filled out for your request. Click Continue.
Click the start arrow on the left side of the document. Please fill in all boxes marked in RED.
Once all information has been entered, click the FINISH button at the top of the page. DocuSign will send your request to the Records Request Coordinator automatically for review.
You should receive a response within 5 business days after the request has been sent

Should you have any questions, please do not hesitate to contact Loren Borst at 775-687-9508. Thank you!
---
Reproduction of Records and Fees
The Division will copy up to 50 two-sided pages of records at no charge for requests for Official State Records and there is no charge for governmental entities. However, maps, bound reports and copies over 50 pages must be sent to a local approved copy center, (Nevada Blue) in Carson City. At the Division's discretion, copy jobs of maps, bound reports and copies over 50 pages may be taken to a local copy center with arrangements for the copy center to pick-up and return records within 5 business days from the date picked up. The Division will inform the requestor if a copy job needs to be sent to a local copy center. In this manner, the requestor must establish an account, arrange for pick up and approve cost associated with the copy request prior to files being released. There will be no charges applied to requests to scan records to an electronic format although electronic copies may be obtained in person only with a sealed, new in package thumb drive. In accordance with NRS 239.052, a copy of the Division policy governing copy charges shall be posted in the main receipt areas of the Carson City and Las Vegas offices.
---
Questions?
Contact Loren Borst at 775-687-9508
Online Form
Back to Resource Search