Request Public Records
Contaminated Site Cleanup, Public Information Request
Forms & Applications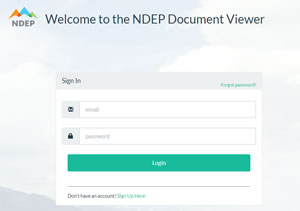 ​Access many records online
Our online document viewer archives various permits, reports, and files related to our air and mining programs. All it takes is a simple search to access thousands of documents on NDEP activities across Nevada.
Instructions for Submitting a Request
You may submit a public record request either with the online form (using the blue button below) or in writing using the NDEP Public Records Request Form (available below).

Please direct your written request to:

Nevada Division of Environmental Protection Records Request Coordinator
Attn: Danyel Soulier
901 S. Stewart St., Suite 4001 Carson City, NV 89701

After recieving the request, the Records Request Coordinator will forward it to the appropriate NDEP program. You will recieve a response later advising whether or not files exist and, if a program has files, offering instructions on making arrangements to view the files or obtain copies.
Questions?
Contact Danyel Soulier at 775-687-9304
Online Form
Back to Resource Search