Uniform Hazardous Waste Manifest Requirements
Key Points for Manifesting
Users in the regulated community have the option to use electronic manifests or paper manifest forms.
The existing 6-copy manifest form has been replaced with a new 5-copy manifest form.
Per the US DOT hazardous materials regulations, a transporter must carry one paper copy of a manifest on their transport vehicle for emergency responders in the event of an incident during transport.
Electronic manifests are the legal equivalent to paper manifests when obtained, used, and submitted in accordance with the e-Manifest regulations.
The e-Manifest system will collect manifests for wastes shipped on a manifest, where the manifest is required either by federal law, or the law of the generator state or destination state.
Any requirement in the Resource Conservation and Recovery Act (RCRA) regulations to give, provide, send, forward, or return a copy of the manifest to another person (including states) is satisfied when an electronic manifest is submitted to the system (40 CFR Part 262.24(a)(2) and Part 264.71(f)(2)).
Final manifests are no longer distributed to states. Receiving facilities are required to submit final manifests to EPA for the e-Manifest system. See How to Submit a Manifest to EPA.
Overview of Manifest Recordkeeping Requirements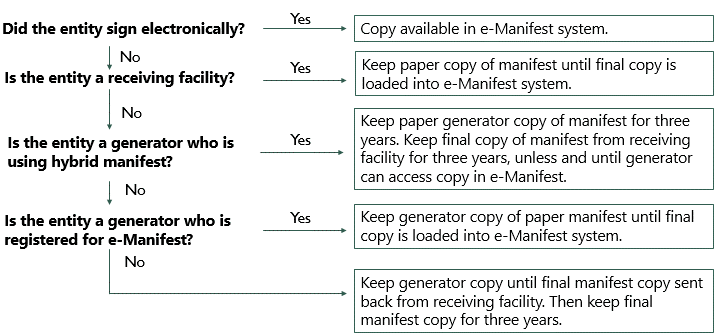 Additional information about the uniform hazardous waste manifest program is available from the EPA website.