Water Quality Monitoring
Background
The Nevada Division of Environmental Protection's (NDEP) Bureau of Water Quality Planning (BWQP) oversees the collection of environmental data that is used to characterize the physical, chemical and biological conditions of water bodies throughout Nevada.
Water Quality Monitoring Program
The water quality monitoring program includes routine sampling at more than 70 sites on the State's major river and stream systems.
Mercury Water Quality Data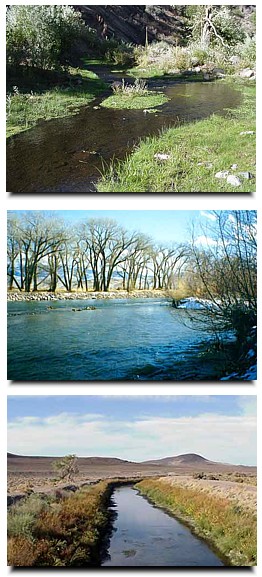 Water Quality Standards
Water quality standards define the water quality goals of a water body by designating beneficial uses of the water and setting numeric or narrative criteria necessary to protect those uses. Beneficial uses established in the Nevada Administrative Code (NAC) 445A.122 include:
watering of livestock
irrigation
aquatic life
recreation involving contact with water
recreation not involving contact with water
municipal or domestic supply
industrial supply
propagation of wildlife
waters of extraordinary ecological or aesthetic value, and
enhancement of water quality
Water quality standards are adopted by the State Environmental Commission (SEC) and are approved by the U.S. Environmental Protection Agency (EPA). Water quality standards for metals (including mercury) and other toxic compounds are contained in the NAC 445A.144. The standards are based on concentrations found in the water column and do not include standards for fish tissue.
Nevada Water Quality Standards: