GIS Map Resources
Welcome!
The Nevada Division of Environmental Protection (NDEP) uses spatial data to support environmental analysis and decision making. This website provides public access to spatial data through web map applications and map services.
Geographic Information Systems (GIS) is the term used to include digital map data and the software used to view those maps. Scientists, inspectors, regulators and bureau chiefs at NDEP use GIS as a tool to view and interpret data in ways that reveal relationships, patterns and trends. GIS provides a common platform for data sharing, which enhances workflow and coordination across state, federal and local governments. As a performance measurement tool, GIS delivers transparency and accountability in government. NDEP uses ESRI software for desktop analysis, cartography, GIS web applications and spatial database management.
Resource Highlight: GeoCortex Interactive Maps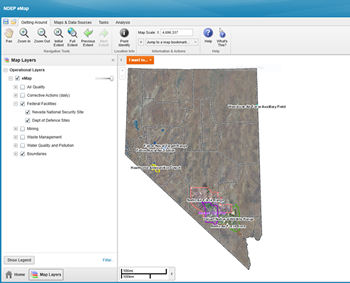 GeoCortex is an application we use to display our data for interactive browsing on the internet. It allows you to do advanced searches and queries for features and even add your own shapefile (select the .shp when adding it in) or .csv file (comma delimited spreadsheet/table). You can also make your own drawing and text on the map itself and save them to a project file. This project file can be reopened and edited on any of our maps! You can even share your project files with others who can edit the drawings as well. You can also export your drawings to a shapefile format! Another feature of this application is ability to copy features to your project drawing. Check out the Analysis tools for identifying options, measuring, finding an XY location, and more!