Anaconda - What's happening at the Site?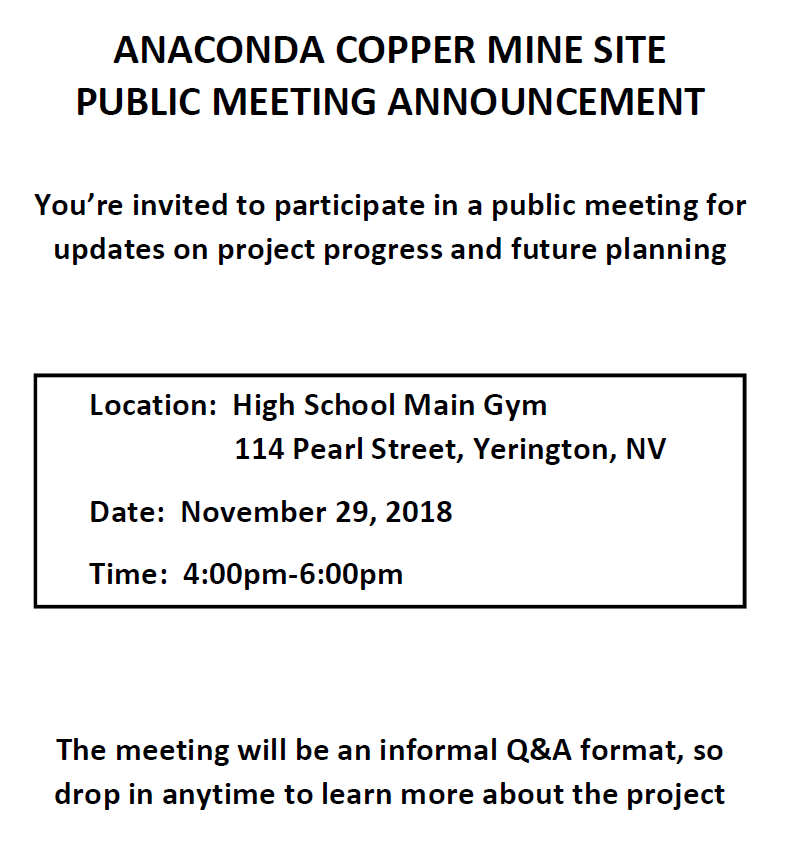 An agenda for the above meeting may be viewed by clicking on the following link: November 29, 2018 Public Meeting
A great deal of scheduling, planning and engineering design work has occurred for the former Arimetco portion of the Site (Operable Unit 8) since deferral on February 5, 2018. Although physical closure work has not yet begun, several documents have been submitted by Atlantic Richfield and reviewed by NDEP along with stakeholders and federally recognized tribes (Tribes). The 12-year Closure Schedule (below) outlines anticipated general project timeframes and target completion dates and can be referred to broadly at any time to determine what phase the project is currently in.
12-Year Closure Schedule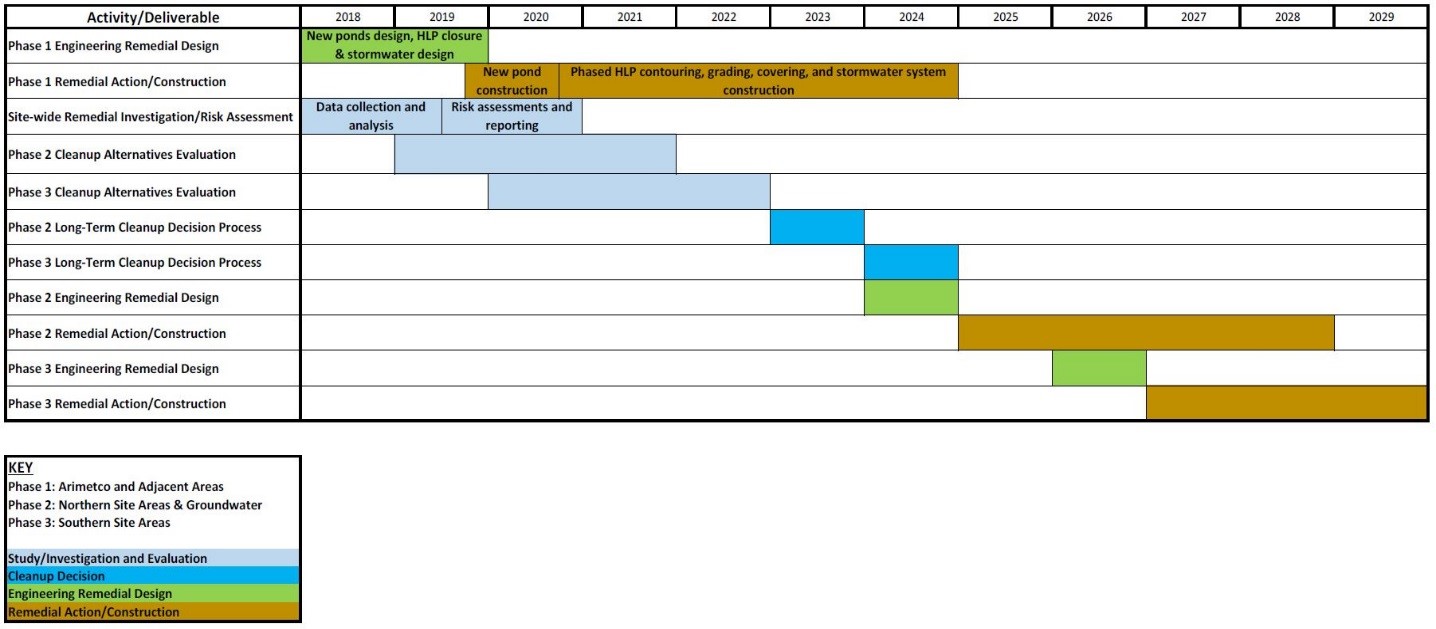 Phase 1, 2, and 3 cleanup and closure activities described in the schedule are depicted in the site map below. The Site is divided into Operable Units (OUs) for site investigation purposes. For future feasibility studies progressing though remedial actions, the Site will be divided into more closure-efficient units, known as Closure Management Units (CMUs) (for more details on OUs and CMUs see the FAQ section).
Current Site Investigation Phase (3rd Quarter 2018)
OU-1 Site-Wide Groundwater
05/07/18: ARC submitted a Draft Plume Stability Tech Memo (TM) for review and comments; stakeholder comment period closed 6/25; NDEP is currently preparing a set of collated comments, and will provide the comments and direction to ARC to finalize the TM and prepare to finalize the RI Report for site-wide groundwater.
05/14/18: ARC submitted a request to eliminate radionuclide monitoring and sampling for specific isotopes; NDEP collated comments and submitted direction to ARC on 7/17. The request was part of an overall groundwater monitoring optimization plan to make the monitoring program more efficient, while ensuring that the necessary information is collected to measure plume migration.
OU-2 Pit Lake
06/04/18: ARC submitted a Field Sampling and Analysis Plan for sampling the pit lake as part of the remaining OUs' Remedial Investigations. After a 45-day review period, NDEP received comments from stakeholders and is collating the comments, and will provide direction to ARC in August.
OU-3 Process Areas
NDEP submitted a collated set of comments on the Human Health Risk Assessment (HHRA) and a detailed set of directions and guidance to ARC on 7/17 to finalize the HHRA Work Plan.
04/25/18: ARC submitted a Draft Screening Level Ecological Risk Assessment (SLERA) for review and comments; stakeholder review and comments period closed 06/08/18; NDEP provided a collated set of comments with direction and guidance to ARC on next steps for finalizing the SLERA Work Plan on 7/17. The two work plans will result in assessment activities that will be summarized in a combined draft report to be submitted early in 2019.
OU-4a Evaporation Ponds
NDEP and its technical contractor are evaluating the current data summary report update, determining remaining data gaps, and will provide direction to ARC on finalizing the RI this summer.
OU-4b, 5 & 6 Sulfide Tailings, Waste Rock Dumps and Oxide Tailings
Fall, 2018: ARC will submit remaining OUs Draft RI Sampling and Analysis Plan
OU-7 Wabuska Drain
NDEP and its technical contractor are continuing to evaluate the Conceptual Site Model Update and determine remaining data gaps to complete the RI. EPA is working with the Walker River Paiute Tribe on tribal lands to conduct a sampling of sediments and water in the Walker River and Weber Reservoir, downstream of the confluence of the Drain and the River.
OU-8 Arimetco Heap Leach Pads, Ponds & Fluid Management System
05/07/18: ARC submitted a Draft Work Plan for Remedial Design/Remedial Actions
06/25/18: Stakeholder comments due for the Draft Work Plan for Remedial Design/Remedial Actions; NDEP is currently collating the comments and will provide direction and next steps to ARC soon.
Ongoing FMS activities: Pond fluid level monitoring and management; bird mitigation; Enhanced Evaporation System operations are continuing again this summer. To date over 1 million gallons of fluids have been evaporated from the ponds.
Operable Unit Map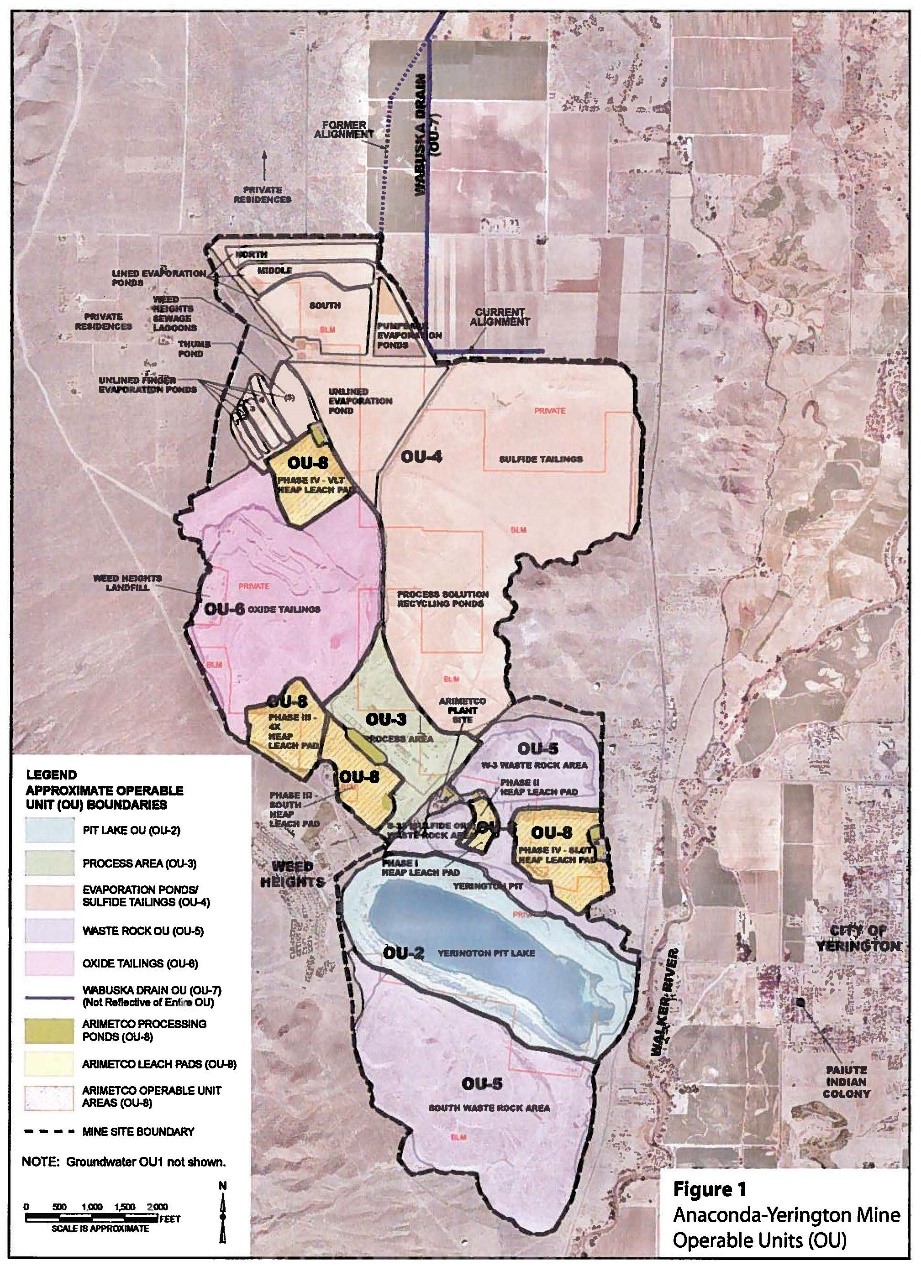 Current Feasibility Study through Remedial Action Phase (3rd Quarter 2018)
CMUs 2, 4, 5, 6 and 7 (Phase 1)
Feasibility study through record of decision has been completed and the draft remedial design to support remedial action in individual areas of this CMU closure phase of the project will be submitted between November 2018 and September 2019. The first phase of closure work for the FMS ponds is scheduled to begin in the fourth quarter of 2019.
CMUs 1 and 3 (Phase 2)
Feasibility study is tentatively scheduled for 2019-2021.
CMUs 8, 9 and 10 (Phase 3)
Feasibility study is tentatively scheduled for 2020-2022.
Site Closure Management Unit Map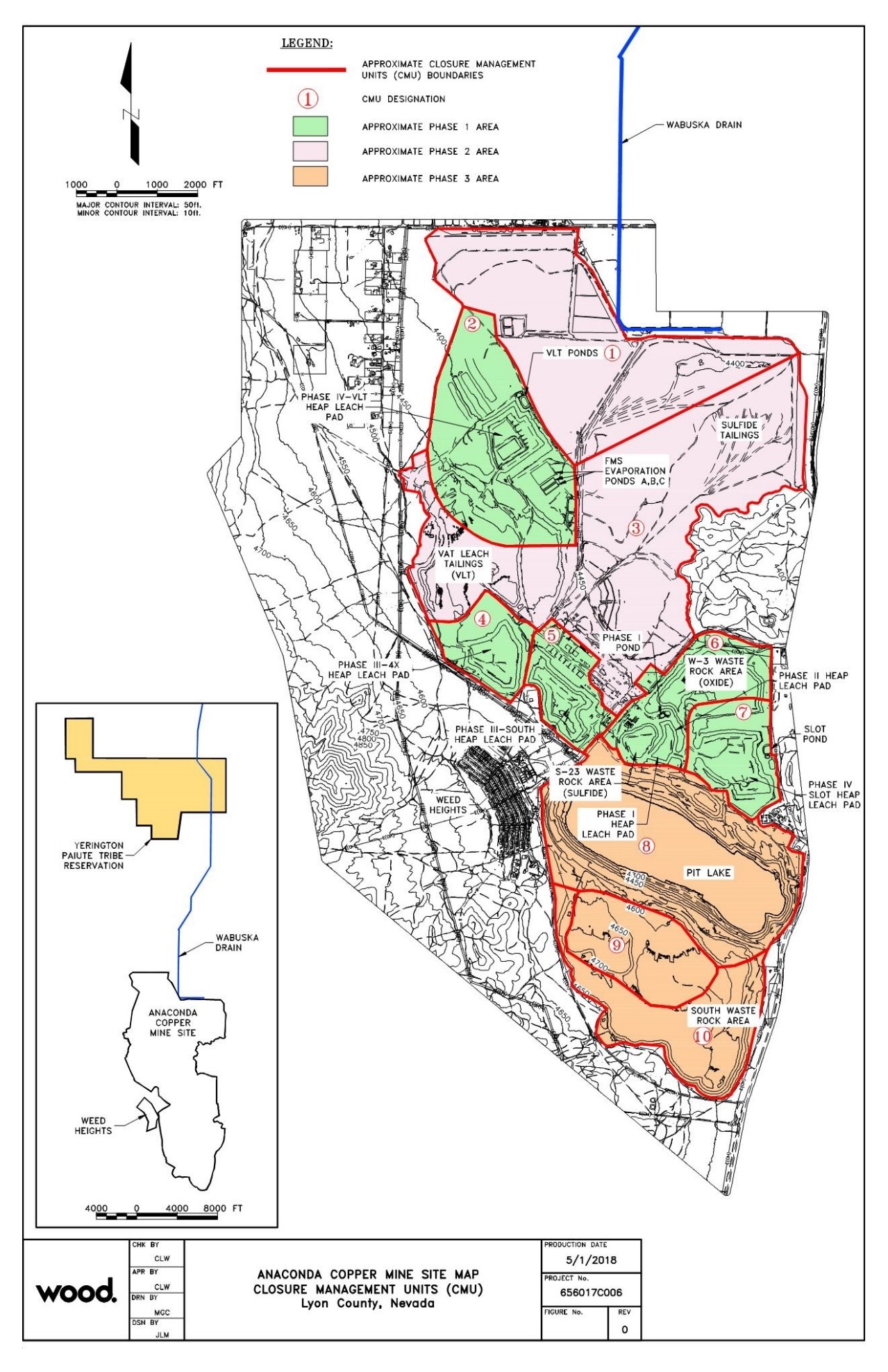 Site Closure
Site closure will progress in the phased order is depicted in the CMU map above. A number of steps are required in the CERCLA site closure process identified in the flow chart below for site closure to proceed. The Site is currently in the first phase of closure, which includes the former Arimetco heap leach pads, ponds, fluid management system and surrounding area. The CERCLA process for this phase of site closure has been completed through record of decision and has progressed into engineering design work. After the engineering design work is approved, remedial action will commence. The first actual earth work (remedial action) at the Site is scheduled to begin in the fourth quarter of 2019 with the construction of new fluid management ponds. This work will be followed by heap leach pad regrading and covering beginning in 2020.
Future site closure associated with Phases 2 and 3 will required additional remedial investigation and feasibility study, a proposed plan, record of decision, and remedial design prior to physical remedial action.
CERCLA Site Closure Process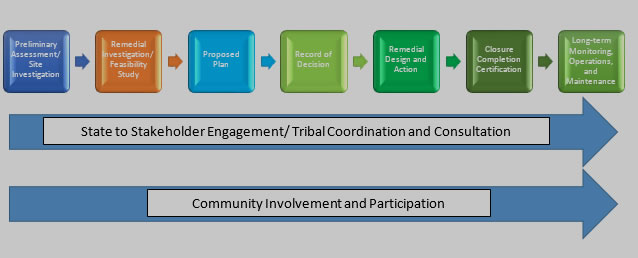 Box Descriptions:
Preliminary Assessment/Site Investigation: During this phase, historical information is reviewed regarding the site. Site investigations are conducted to evaluate the potential for a release of hazardous substances. The site is evaluated to determine if it poses a threat to human health and/or the environment.
Remedial Investigation/Feasibility Study: In this phase the site is evaluated to determine the extent of contamination and to assess the potential threats to human health and the environment. This phase includes evaluation of the potential performance and cost of the cleanup options identified for the site.
Proposed Plan: Community members can comment on the proposed cleanup options for the site.
Record of Decision (ROD): In this public document, NDEP explains which closure alternatives were selected to clean up the site.
Remedial Design and Remedial Action: An engineering design is developed for the preferred cleanup option in support of the selected remedy. Construction of the preferred cleanup option that provides a CERCLA-protective remedial action for the Site.
Closure Completion Certification: Once NDEP considers remedial actions for the site (or portion of the site) complete, NDEP "Certifies" the CERCLA-protective cleanup and submits a Certification and Completion Report to EPA.
Long-term Monitoring, Operation and Maintenance: Post closure monitoring and periodic evaluation of constructed remedy is performed to ensure protection of human health and the environment.