Brownfields Grants
The Nevada Brownfields Program (NBP) provides funding to help with the assessment and cleanup of contaminated properties. Program funds may be used to perform a records search to assess contamination (Phase I), conduct onsite investigations of contamination (Phase II), and, if necessary, safely and properly clean up a site.
Up to $200,000 may be used to fund Phase I and Phase II assessments, and up to $200,000 may be used for cleanups. No match is required. Once you're enrolled in the program, the process is turnkey. NBP has highly-qualified State contractors who will perform the assessments and remediation, keep you updated as milestones are achieved, and provide a final report once the project is complete.
How to Apply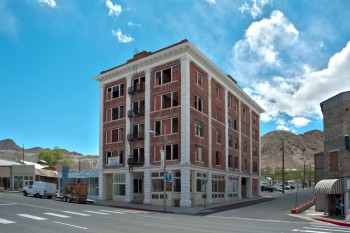 Complete the Brownfields Grant Application.
Contact the Nevada Brownfields Program Coordinator at (775) 687-9378 for information on how to submit your application and to answer any questions.

You may also mail your application to:

Nevada Division of Environmental Protection
Brownfields Program, BCA
901 S. Stewart Street, Suite 4001
Carson City, NV 89701
Eligibility Requirements
Applicants must meet the following criteria to participate in the Brownfields Grants program:
Funds are available to Nevada local governments, Indian Tribes, and non-profit organizations.
Sites must have real or perceived contamination by petroleum, asbestos, lead based paint, or other hazardous substances.
Preference is given to sites with strong redevelopment potential, especially those with community support.
Properties owned by the State or Federal government, listed or proposed to be listed on the Environmental Protection Agency's Superfund list or subject to enforcement action, or whose current owner is responsible for the contamination are not eligible.
Funds are available for environmental assessment and clean up. Construction activities do not qualify for grants.