Liability Protection
Environmental Liability Protections For Property Owners Under State & Federal Law
In 2002, with passage of the Small Business Relief and Brownfield Revitalization Act, the US Environmental Protection Agency altered the way that owners of land contaminated by hazardous substances were held liable for site cleanup actions under the Comprehensive Environmental Response, Compensation and Liability Act (CERCLA). Liability protections under federal law were enacted for three categories of landowners: bona fide prospective purchasers, innocent landowners, and contiguous landowners. The State of Nevada followed suit in 2003 and adopted equivalent liability protections for these same categories of landowners, as set forth in Nevada Revised Statute (NRS) 459.930.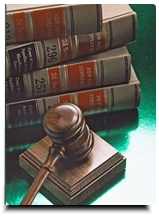 Liability protections for all three categories of landowners are subject to certain obligations. Landowners interested in maintaining liability protections should review all relevant laws and guidance to understand these obligations, which include both pre- and post-purchase requirements. Although this page specifically discusses only Bona Fide Prospective Purchasers and contiguous property owners, liability defenses for all categories of landowners include many "common elements" as discussed in the US EPA "Common Elements" Guidance, Reference Sheet . Links to other relevant laws and guidance are also provided below.
If you are considering purchasing contaminated property as a Bona Fide Prospective Purchaser or if you own land that has been contaminated by the release of hazardous substances from properties adjacent to yours, the below information provides the legal requirements for environmental liability protection and the position of the Nevada Division of Environmental Protection (NDEP) on providing clarification of an individual's liability at a specific property.
USEPA Superfund Redevelopment Initiative website
Further Program Information
All Appropriate Inquiry : https://www.epa.gov/brownfields/brownfields-all-appropriate-inquiries
Disclaimer: Please note that the information on this page and the pages noted above are not meant to be all inclusive on the issue of liability protection. It is designed for general information purposes only and should not be construed to be formal legal advice. You should consult an attorney for advice regarding your own situation. Although great care has been taken to ensure the accuracy and utility of the information contained in this website, no warranty is made, express or implied, and the NDEP assumes no liability in connection with any use or result from use of the information contained herein.