About the Grants Program
About the Grants Program — In 1991, the Nevada State Legislature created a program (NRS 349.980 through 349.987) to provide grants to purveyors of water to assist with the costs of capital improvements to publicly owned community water systems and publicly owned nontransient water systems as required or made necessary by the NDEP, Bureau of Safe Drinking Water or the Federal Safe Drinking Water Act. Senate and assembly bills related to the history of this program can be viewed on this page.
The grant program was established to fill the financial gap between actual costs and what the community can afford. In this sense, an applicant community is expected to do as much as possible to help themselves before seeking the State's assistance. When a large project is required, the applicant is required to finance as much of the project as is locally possible.
Program Expendures — A summary of all of the grants approved by the Board from the inception of the program through December 31, 2016 may be viewed by clicking on either of the images of the state below.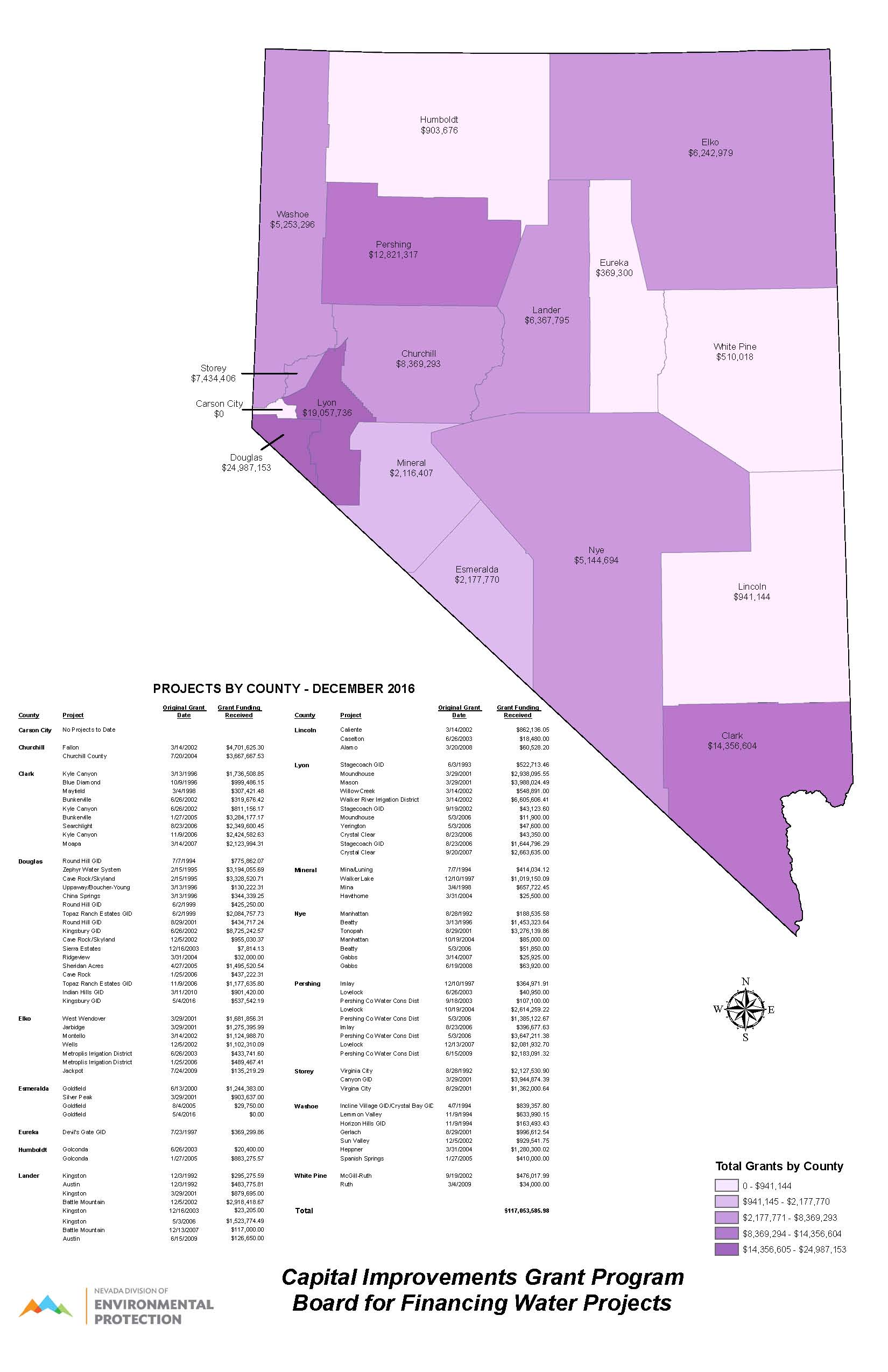 In order to see the actual amount of grant funding obligated by the Board and disbursed during the project, click on the Program Summary through December 31, 2016 sheet below.


---
Bills related to the State Grant Program passed by the Nevada State Legislature
Assembly Bill History
| | |
| --- | --- |
| AB 251 - 1987 Session | Created the Board for Financing Water Projects |
| AB 197 - 1991 Session | Created state loan program & authorized $100,000,000 in revenue bonds to support the purposes of this program |
| AB 198 - 1991 Session | Created state grant program & authorized general obligation bond authority at $25,000,000 |
| AB 535 - 1993 Session | Expanded class of publicly owned water systems eligible for grants |
| AB 237 - 1999 Session | Expanded class of publicly owned water systems eligible for grants to include irrigation/water conservation & increased bond authority from $40,000,000 to $50,000,000 |
| AB 549 - 2001 Session | Increased bond authority from $50,000,000 to $69,000,000 |
| AB 473 - 2003 Session | Moved the Drinking Water SRF Program from the Health Division to NDEP |
| AB 20 - 2005 Session | Increased bond authority to $125,000,000 |
| AB 236 - 2009 Session | Expanded the definition of "eligible recipient" to include nonprofit associations or cooperatives |
Senate Bill History
| | |
| --- | --- |
| SB 141 - 1995 Session | Revised provisions governing eligibility of certain purveyors of water to receive grants |
| SB 302 - 1997 Session | Establishes statutes for SRF; Repealed AB 197 loan program & Increased bond authority for grants program from $25,000,000 to $40,000,000 |
| SB 200 - 2003 Session | Authorized grants to pay certain costs associated with connecting to a community sewer system & Increased bond authority from $69,000,000 to $73,000,000 |
| SB 233 - 2003 Session | Increased bond authority from $69,000,000 to $86,000,000 |
| SB 18 - 2005 Session | Authorized grants to pay certain costs associated with connecting to municipal water systems |
| SB 62 - 2005 Session | Created a $1,000,000 water rights technical support fund |
| SB 147 - 2005 Session | Increased bond authority to $125,000,000 (revolving) |
| SB 395 - 2005 Session | Transferred responsibility of the safe drinking water program from Health to NDEP |
| SB 105 - 2009 Session | Changed NRS 349.983 to make the amount of matching funds required from the recipient based on the total project cost |