Snapshot Day
Snapshot Day
Snapshot Day is an educational and citizen volunteer stream monitoring event for the Lake Tahoe Basin, the Truckee River, and the Carson River watersheds in Nevada and California. It is a volunteer-based annual event that was started in 2001. Citizen volunteers and local school classes have been learning about their watershed, water quality issues, how streams function, and how to assess stream health for nearly 20 years!
Snapshot Day takes place in May or early June each year in the Tahoe/Truckee Basin, and captures spring runoff conditions. For the Carson River watershed, Snapshot Day takes places in mid-October, after agricultural irrigation ends for the season. Volunteer monitoring teams conduct a visual stream assessment (an overview of physical conditions that could be affecting stream organisms), collect physical and chemical data in the field, and photo-document the site. Field parameters include: pH, dissolved oxygen, conductivity, temperature, and Secchi depth (in lakes). When water samples are collected, they are sent to a State certified lab for further analysis for turbidity, nutrients and coliform bacteria.
Truckee River Watershed Map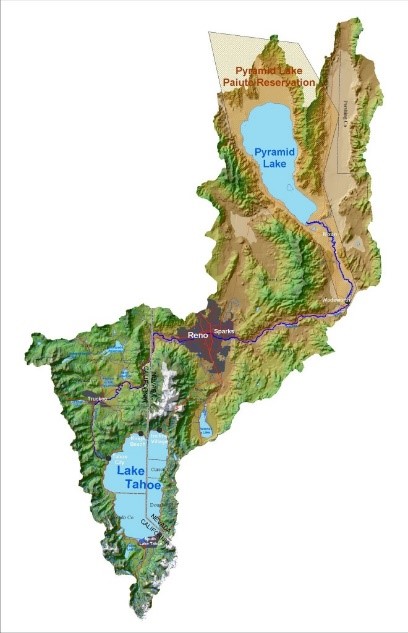 The 20th anniversary Truckee River Snapshot Day is scheduled to take place at multiple sites along the lower Truckee River on Thursday, May 21, 2020 between 8am and 1pm.
NOTICE: DUE TO THE COVID-19 PANDEMIC, THE 20TH ANNIVERSARY TRUCKEE RIVER WATERSHED SNAPSHOT DAY IS CANCELLED.
Celebrate this legacy program with NDEP and all of the collaborative partners, educators, and students in the Truckee Meadows and Pyramid Lake. For the latest information and to participate as an education outing as a classroom or to help with the education experience on the river, please contact Patricia Tierney at ptierney@ndep.nv.gov.