Nevada Project WET

Advancing water education to understand global challenges and inspire local solutions
Project WET (Water Education Today) is an interdisciplinary water education program designed to supplement K-12 curriculum by integrating water education into any subject in the classroom. Since 1984, Project WET, an award-winning 501(c)(3) nonprofit organization, has dedicated itself to the mission of reaching children, parents, teachers and community members of the world with water education.
Our Goals
Support teachers and educators conducting watershed and environmental education with curriculum resources that meet Nevada State education standards
Provide up to date Project WET resources, activities, and curriculum to help educators and facilitator achieve their goals
Develop a state wide network of Facilitators who conduct Project WET trainings for teachers and educators
Create a network of educators and expert professionals across the state for supporting Project WET workshops and trainings
Project WET and NDEP share core beliefs:
Water connects us all: Water moves through living and nonliving systems and binds them together in a complex web of life.
Water for all water users: Water of sufficient quality and quantity is vital for all water users (energy producers, farmers and ranchers, fish and wildlife, manufacturers, recreationist, rural and urban dwellers).
Managing water sustainably: Water resources management is crucial for providing tomorrow's children with social and economic stability in a healthy and sustainable environment.
Personal responsibility for water resources: Awareness of and respect for water resources can encourage a personal, lifelong commitment of responsibility and positive community participation.
---
What is a WET Educator?
Project WET's mission is to bring water education to the world, and our educators make it happen! By becoming a WET educator, you receive the tools, training, and resources to incorporate water education into your curriculum or education program. WET educators can be formal or non-formal, with students anywhere from pre-k to high school.
How do I become a WET Educator?
If you are interested in conducting Project WET curriculum to your students you first must attend an official Project WET training to become certified as a Project WET educator. Do not worry, it is not that hard! This is achieved by attending a Project WET Educator Workshop from one of Nevada's Project WET Facilitators. During an Educator Workshop participants are given a variety of tools and teaching materials to bring to the classroom. Curriculum materials include an introduction to water in Nevada, highlighting surface water and groundwater resources, simple hydrology, water uses, Nevada water law, water issues in the State, and pollution prevention. You will also receive a Project WET Curriculum and Activity Guide 2.0 and tons of additional water education resources and long ongoing support from your facilitator and state coordinator.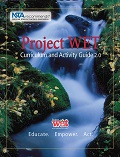 Receive this guide after attending a WET Educator workshop. The Project WET Guide 2.0 can also be purchased. To gain more information about the material in this guide click on the image to the left.
If you are interested in attending a Project WET Educator training, you can search for a Facilitator in your area or contact Nevada's Project WET State Coordinator:
---
What is a Project WET Facilitator?
Project WET Faciliators lead, develop, and conduct workshop and trainings for educators. Facilitators must complete up to 12 hours of extensive Project WET training and pledge to hold at least one Educator Workshop a year. Facilitators are a critical partner and collaborator for Nevada to achieve the Project WET mission goals. The Facilitating organization or individual will work to enhance resources, tools, and trainings for conducting successful workshop. In addition, it is encourage that Facilitators customize the curricula to reflect their local watershed and water issues, and meet the needs for their local educators.
Northern Nevada
Great Basin Outdoor School, Reno
Sierra Nevada Journeys, NV & CA
Keep Truckee Meadows Beautiful, Reno
River Wrangles, Carson Valley
Southern Nevada
Get Out Doors Nevada, Las Vegas
Southern Nevada Water Authority/Springs Preserve, Las Vegas
Chris Fritsen cfritsen [at] ndep.nv.gov 775.687.9558